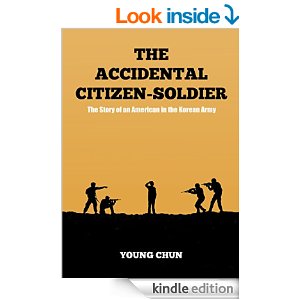 Imagine being born and raised in the U.S.A.  You work your way through the public education system and earn a degree from the University of Washington.  Like many young people you find yourself saddled with student loan debt and working in a dead end job.  So you see an advertisement recruiting folks to teach English in Korea and figure why not?
And so began the nightmare for Young Jin Chun.  When he applied to Korean immigration for an extension of his employment visa he was told he was not eligible because he was already a Korean citizen.  Although Chun's parents had immigrated to the US several years before he was born, someone (it is not clear who) had his name added to the family register in Korea.  And as far as the Korean government is concerned, that makes you a bonafide Korean.  Chun didn't think it was that big a deal until he received notice that he was being drafted into the ROK army. That got his attention!
Chun did everything a reasonable person would do to rectify this error, gathering all his records to demonstrate he was as American as an apple pie.  The American embassy in Seoul told him "it's not our problem".  The Korean consulate in the USA said he was past the age to renounce his Korean citizenship.  And so it came to pass that he was neatly boxed in by two uncaring governmental bureaucracies.
Chun's passport was blocked preventing him from leaving Korea.  In desperation he enlisted in the U.S. Army, but as he was preparing to board the aircraft at Osan Air Force Base for basic training at Fort Jackson, SC, Korean immigration nabbed him and shortly thereafter he found himself a 27 year old American conscript in the Korean army.  A Korean soldier who didn't speak Korean or even like Korean food.
You can read this news account which provides more detail on the events leading up to this insane situation.  Or better yet, you can purchase Chun's book ($2.99 for the Kindle version at Amazon) and read the sad and sometimes funny account of his life in the Korean military.  That's what I did and it's a good read.  After surviving basic training, he was assigned as a linguist with the Second ROK Army in Daegu.  I had to laugh at his account of being called to interpret a meeting between American and Korean Army officers.  He finally had to tell the Americans "I'm sorry, I don't understand what he's saying either".  And when his commanding officer found out about the interview he gave to the Seattle newspaper (linked above) he was on everyone's shit list.  How bad was it?  So bad that he volunteered to deploy to Afghanistan!  Anyway, read the book.
I was talking to a co-worker who spent many years with the State Department about Young Chun's adventure and he was incredulous.  At first, he thought the story was made up, but I assured him it was not.  He agreed the U.S. embassy in Seoul is next to worthless, but felt the American government could have and should have intervened on his behalf.  And last night I recounted the tale to a Korean-American friend (also born in the USA) who came to Korea around the same time as Chun and he told me the same thing had almost happened to him.  His father was apparently well-connected with Korean government officials and managed to get him exempted from Korean military service.
And I guess that's pretty much how the world works–it's not who you are but who you know.  Chun did survive his adventure at least and I suppose it all turned out as best as could be expected.  I understand he is still living and working in Korea and his Korean language skills have improved immensely.  So there's that.