I'm back from my short but sweet trip to the beautiful east coast of Korea! 
I don't tend to drive much in Korea, because frankly you don't need to.  Subways, cabs, and sometimes busses get you anywhere you need to go in the city.  And the KTX has taken me just about everywhere else I wanted to go.  Consequently, my last real road trip was when I went to the USA in 2007 and did a San Francisco-Las Vegas-San Francisco driving tour. 
I define "road trip" as having an ultimate destination, but the real joy is the journey in getting there.  This trip did not disappoint in that regard, as I saw some amazing countryside along the way.  There really are two Koreas (yeah, well I'm not talkin' North and South here): the city and the rural.  Although I guess that sounds obvious, I've been so Seoul-centric that I had forgotten that a wild and wonderful world existed right outside the city limits.  And driving that two-lane blacktop is really the only way to really see it.  Let's go!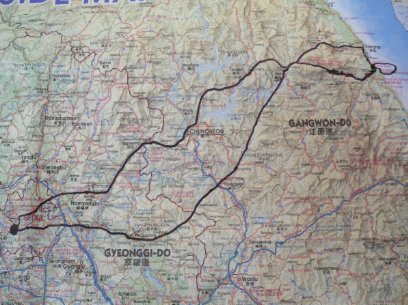 This was the circuituous route I took, outbound through Yangpyeon-Hongcheon-Seoraksan-Naksan, returning through Sokcho-Chuncheon-Seoul.  If you like driving through mountains as much as I do (a lot!) you will love this trip.  It wasn't quite the Rockies, but still quite nice and a helluva lot closer.  Lots of twists and turns, but my old right hand drive Nissan BlueBird handled the road quite well.  I'll say this for Korean highway engineers–they are tunnel building fools.  I couldn't help but think of Gimli the Dwarf from Lord of the Rings as I drove underneath the mountains.  Some of these were quite long, including the Misiryeong tunnel at over 3500 meters.
I took a hwajangsil (toilet) break just outside Yangpyeong.  No, I'm not going to get into that level of detail about what I did, so relax.  They don't have traditional rest stops like you see along U.S. highways, but they have service areas (gas station, restuarant, bathrooms) at frequent intervals along the way.  Just look for the big yellow sign.  Anyway, this particular service area had a little domestic zoo like thing going around back.  Rabbits, chickens, dogs, etc.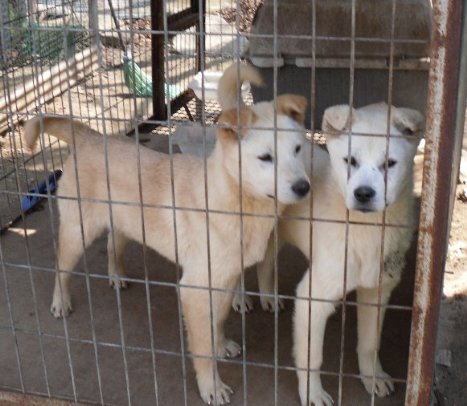 The were very friendly and happy to be showed some attention.  I felt kinda sorry for them though.  Hope they weren't slated to be on the menu.  I chose not to eat there just to be on the safe side.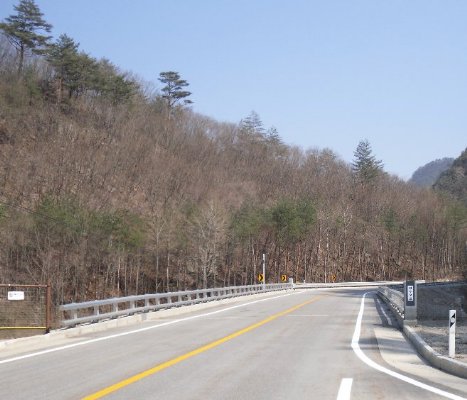 Typical highway scene.  As you can tell, I'm not much of a photographer.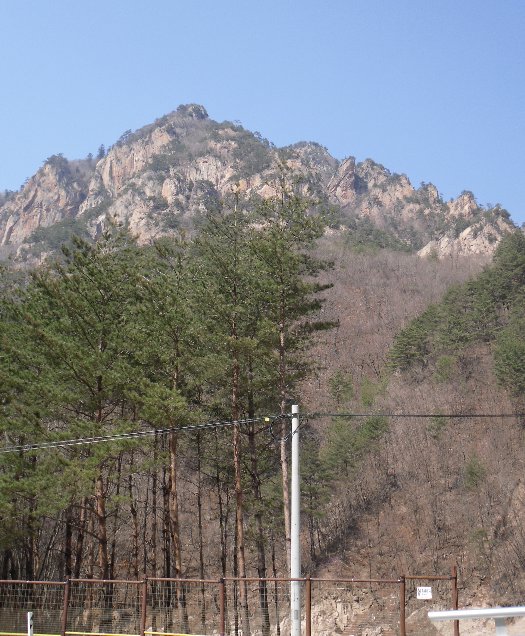 Unfortunately, the skies were pretty hazy which is somewhat typical this time of year I suppose.  I'm sure with a blue sky for contrast it would have looked much nicer.  Plus, spring has not really sprung at elevation, but lower down the cherry blossoms added some nice color to things.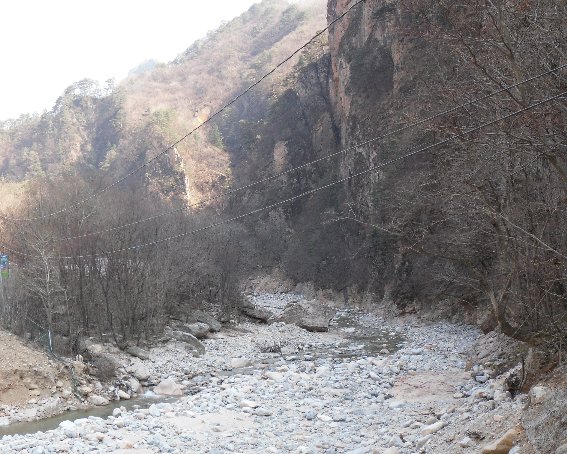 I'm not sure if we are having a drought or if this is typical for the season, but all the creeks were low to the point of being almost dry.  And the red fire hazard flags were also in abundance.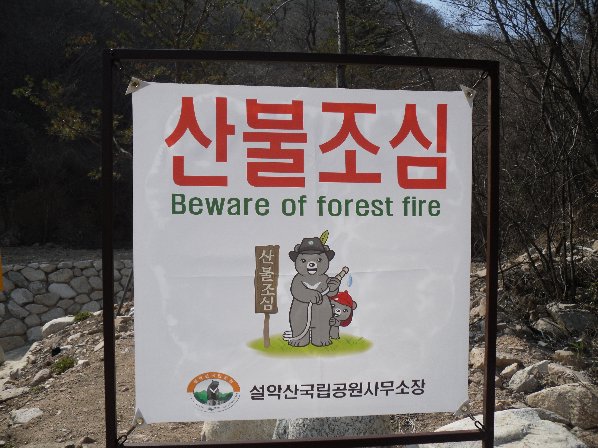 Smokey's Korean cousin (if he has a name, I don't know it) was spreading the word that only you can prevent forest fires!  Well, techincally, he is saying be careful, but I'm used to the message I grew up with.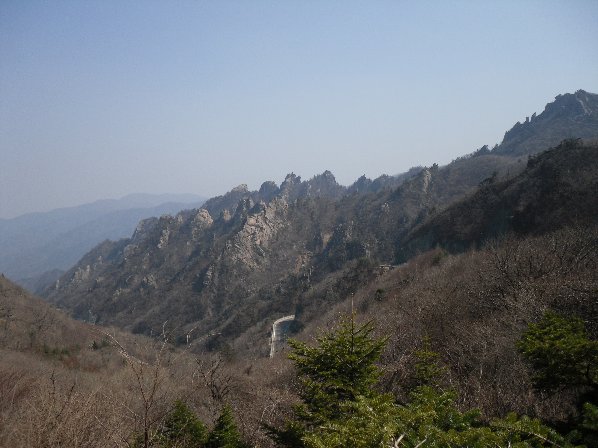 From the summit on the Seoraksan highway.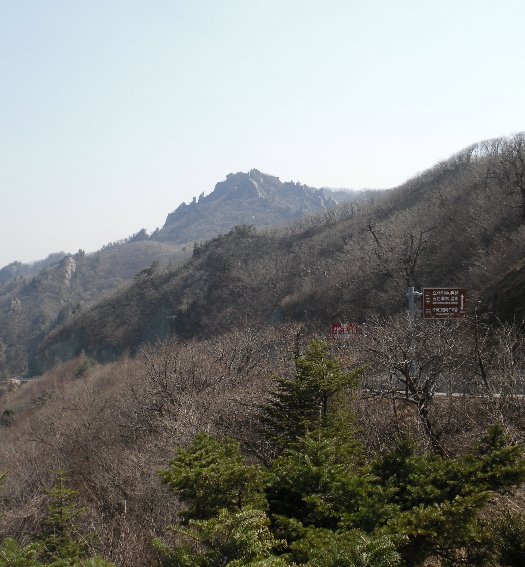 Again, I wish it had been clearer.  But it was still quite beautiful.  My photography fails to capture how nice it was.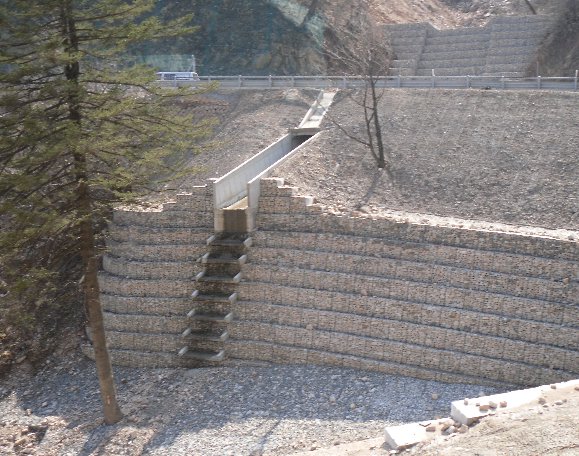 I don't want to come off as some kind of geek, but I couldn't help but be impressed at the time and effort the Koreans put into simple things like culverts.  This is pretty typical of the rock work seen along the country highways.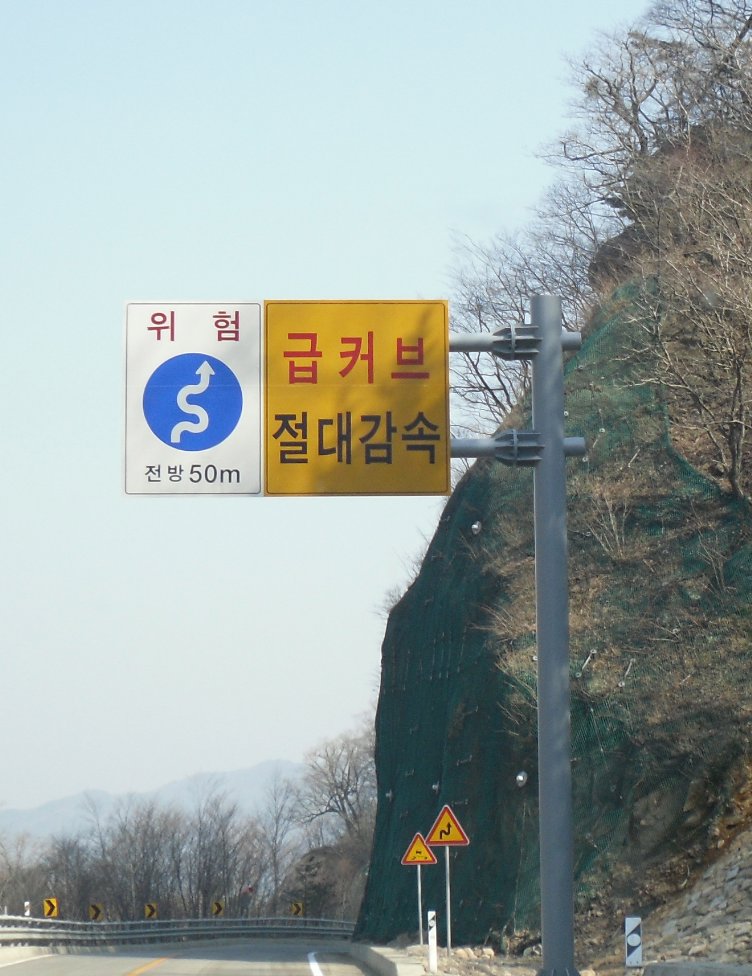 Did I mention the road was long and winding?  It was.  My Hangul reading ability is so slow as to be useless when driving.  But as anyone who has ridden with me through the mountains can attest, I do enjoy a challenge.  And the thrill of cheating death.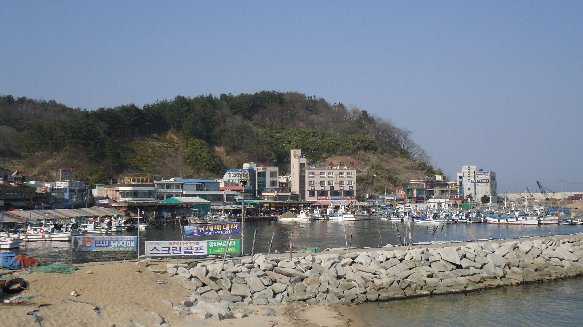 Having arrived safely at Naksan Beach, I ventured out to Daepohang, the little fishing port nearby.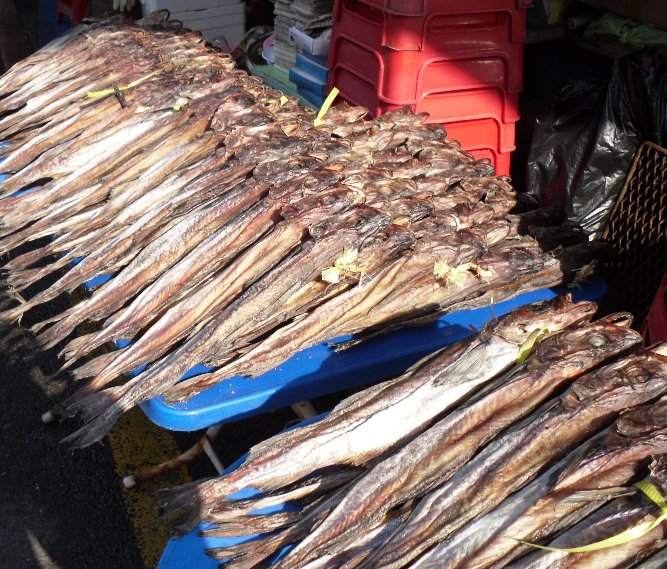 The traditional Korean dried fish (I think it is called bukho) was in abundance.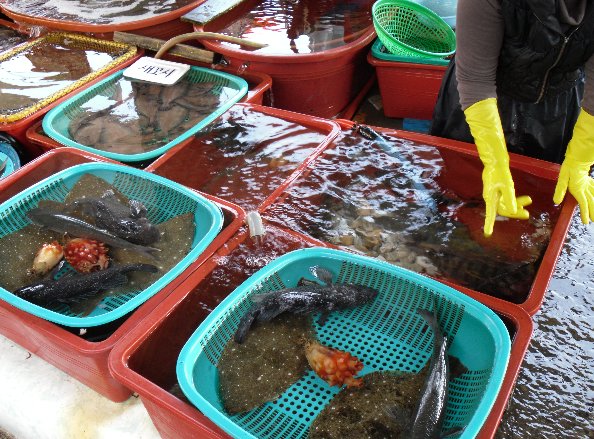 But of course, the fresh catch of the day is the biggest attraction.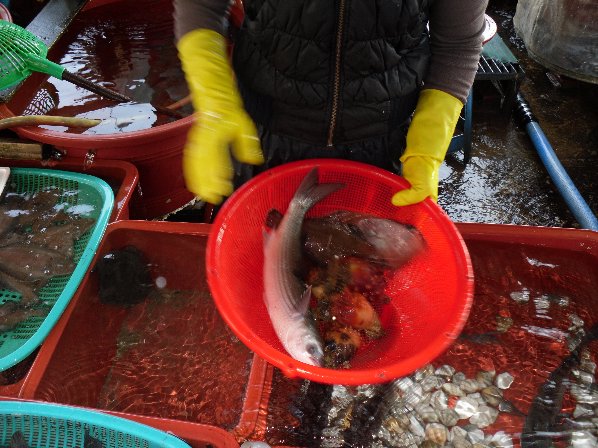 My purchase, take 1.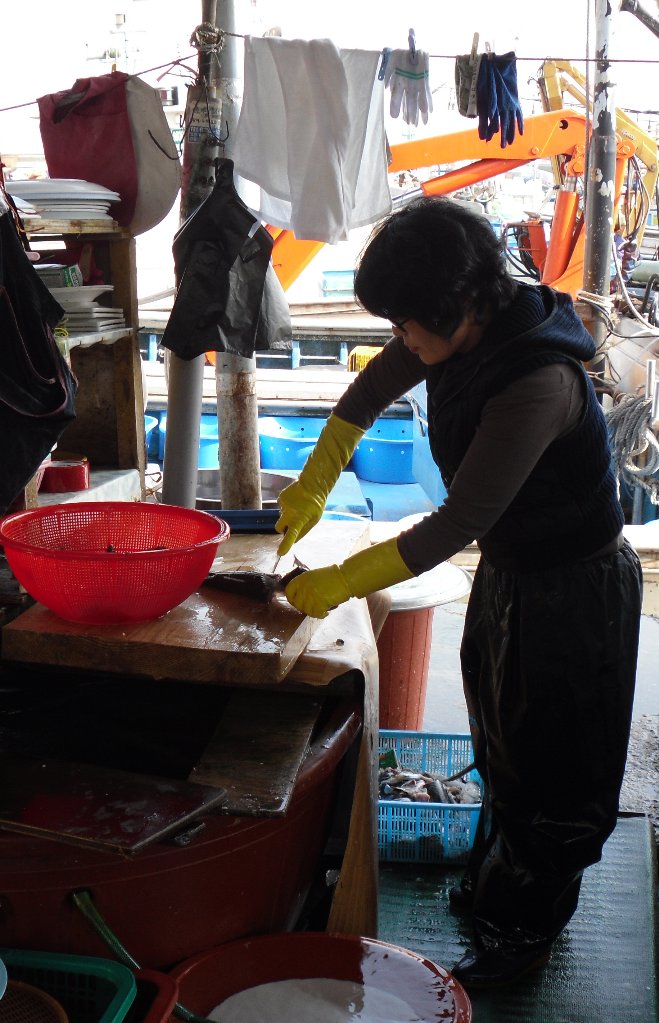 My purchase, Take 2.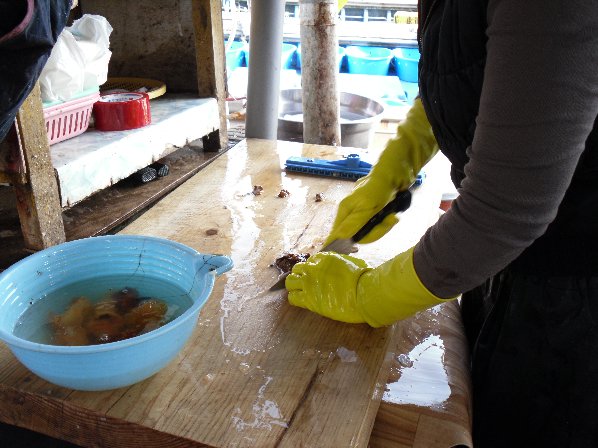 My purchase, Take 3.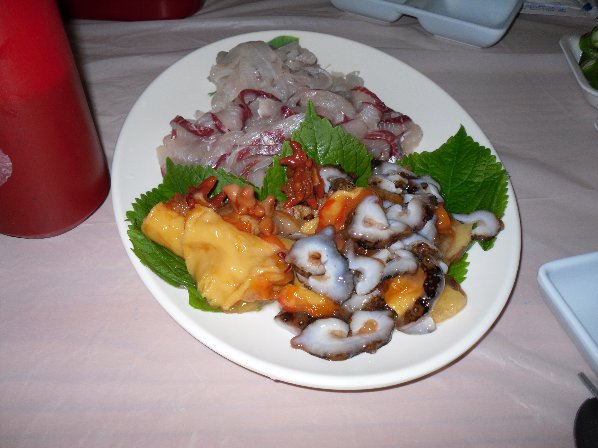 My purchase, epilog.  The way it works next is you carry the freshly prepared fish across the alley where a restuarant will serve it up with the requisite side dishes.  My problem is I'm not real big on raw fish.
Fortunately, they also let you cook it up in this great soup concoction.  Call me culturally insensitve if you will, but that's the way I like it!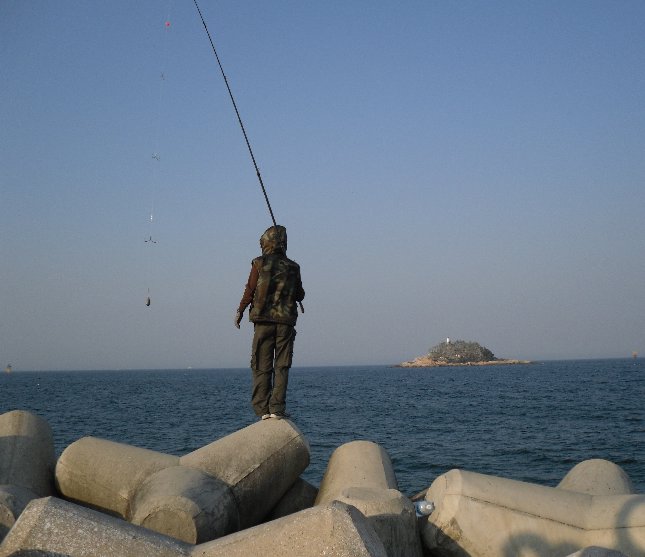 Did a little walking around, and caught this tranquil scene at the end of a little jetty.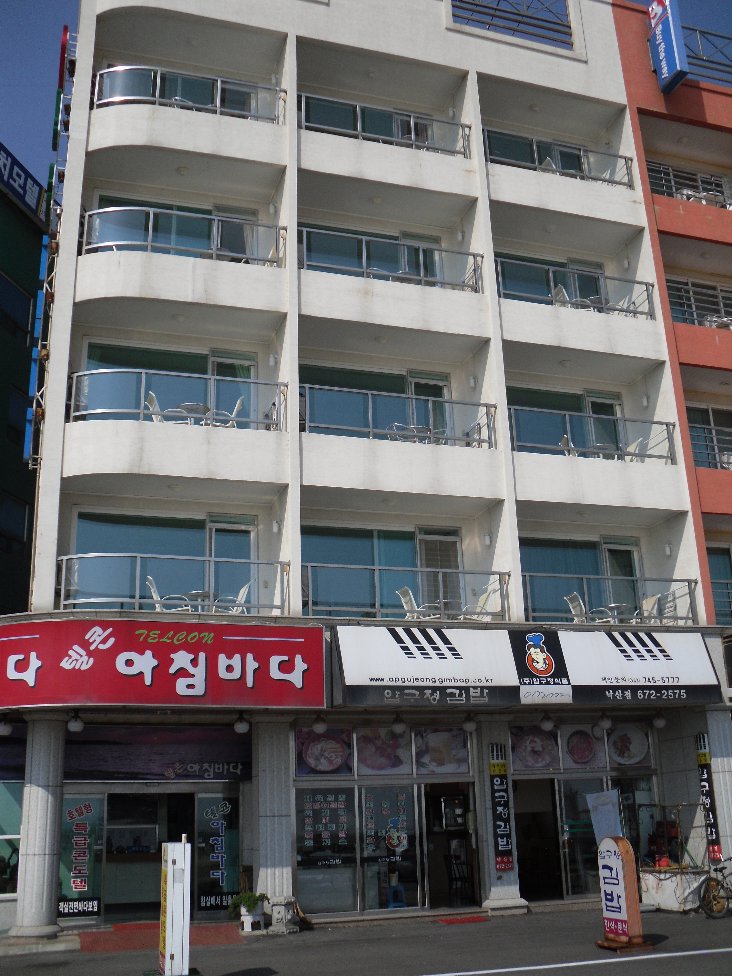 This was the off-off season in Naksan apparently.  Hucksters were practically begging me to check into their lodging and eat in the near empty restaurants.  I settled for this little condotel (a room with a kitchenette, not that I used it) right on the beach.  W40,000 per night (around $35)  I was on the top floor, far left.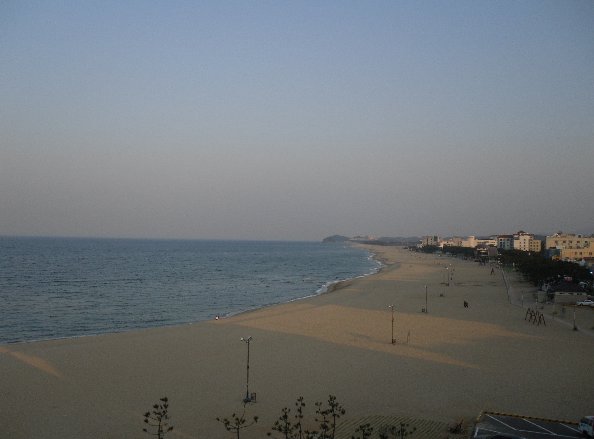 The view from my room.  That night, there was a beautiful full moon reflecting off the water.  My attempt to photograph it resulted in total failure.  Things were so dead I felt like I was in a Ghost Town.  I ventured out to a local Hof for some chicken and beer, hit the PC bang to check my blog and email, and visited a dried fish store to get some gifts for the office folks and friends in Seoul.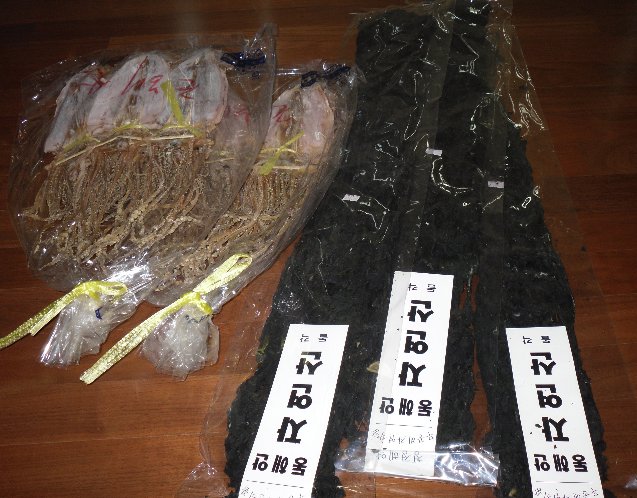 Seaweed and squid make the perfect gift.  I hope.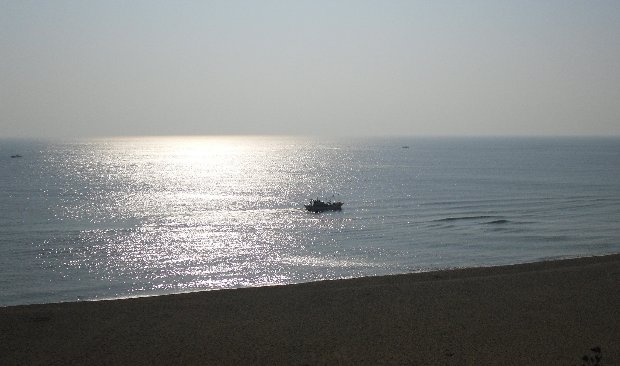 The next moring I slept too late to see the famous east coast sunrise (very popular at Lunar New Year and I imagine Easter Sunday).  The fishing boats were out and about however.
Took a walk on the beach and got a better picture of a fishing boat plying its trade…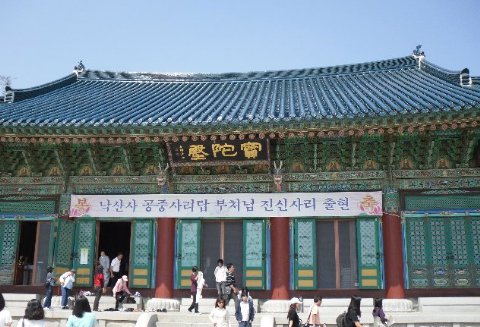 After checking out of the hotel and before beginning my journey home, I stopped at the nearby Naksan Buddhist Temple.  Spectacular grounds and buildings, all sharing a magnificent ocean view.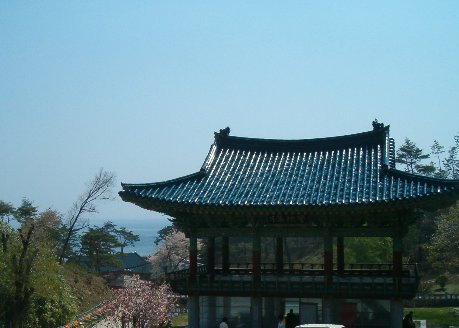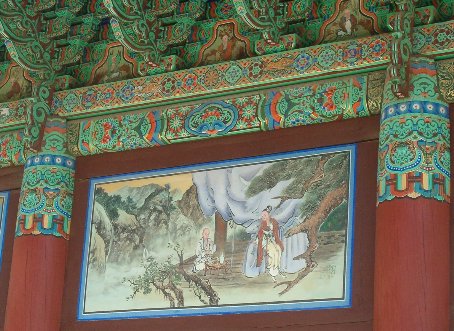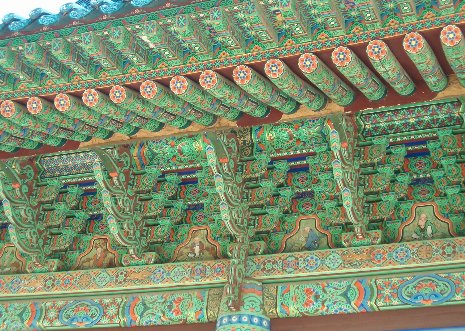 The detail work is quite impressive, don't you think?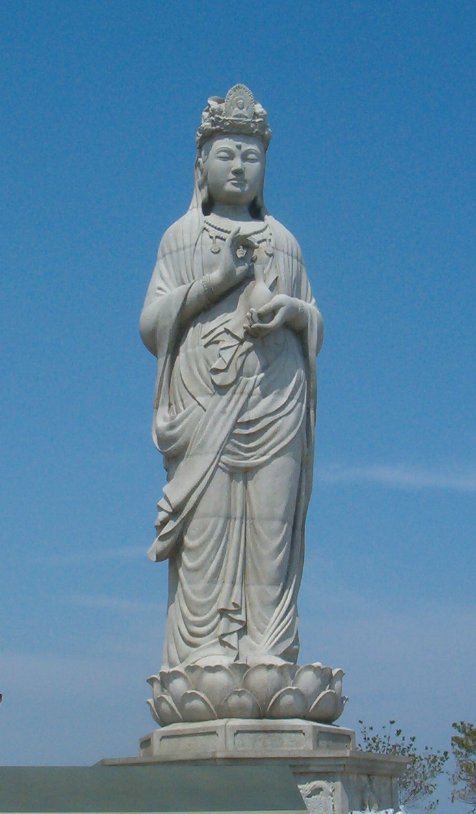 This statue (I'm no Buddhist, but I think its called Wuisangdae) is at the highest point of the temple grounds and really dominates the vista.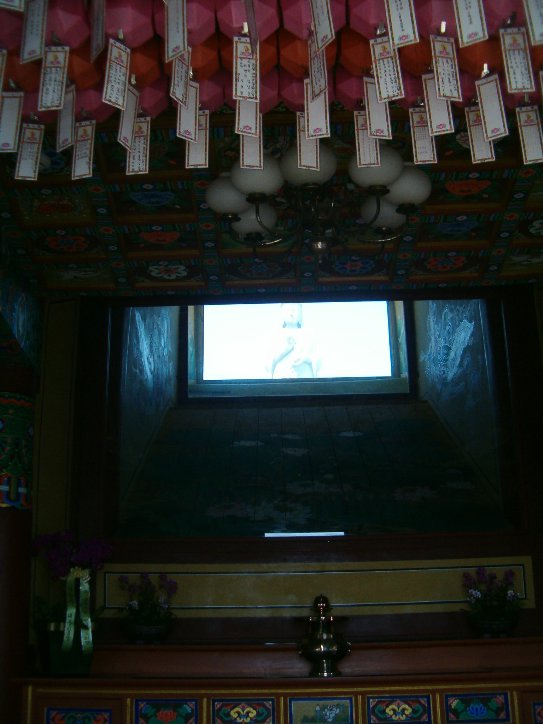 Places of worship always have the idol figure.  This one was unique because it had a window arranged so you could view the statue from inside the temple.  Again, my camera skills (or lack thereof) don't quite capture how cool this really was.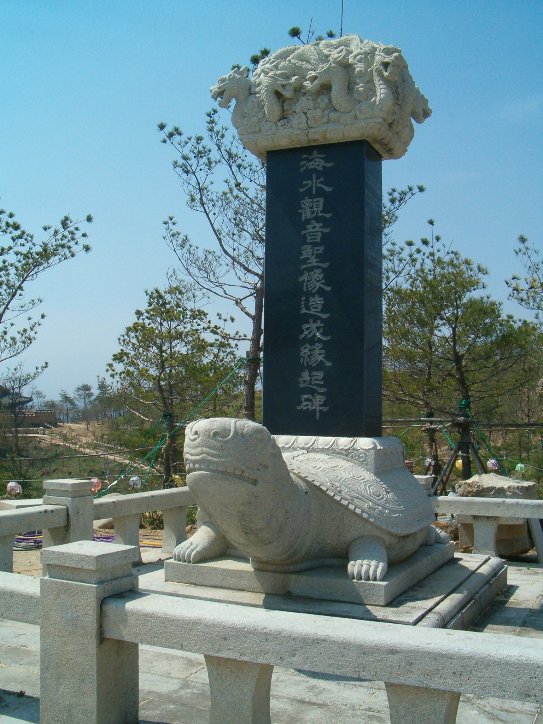 Not sure what the symbolism of this represents, but I thought it was worthy of a photo.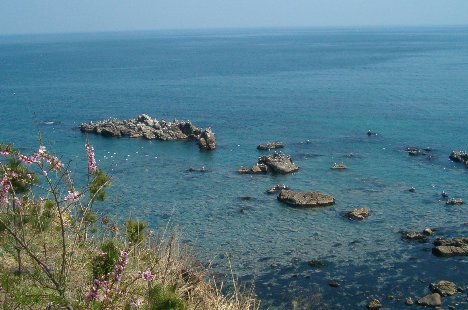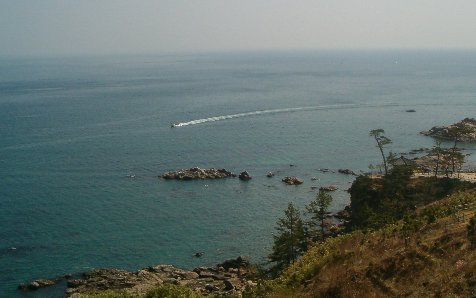 Did I mention the views from the temple grounds were outstanding.  They were.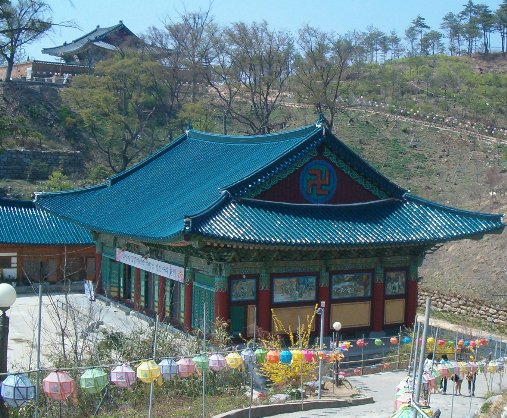 Another perspective of the main temple.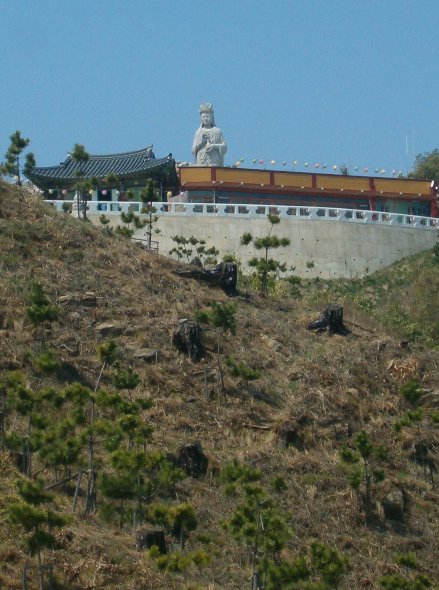 I'm not sure this does so effectively, but I was trying capture the enormity and dominance of the Wuisangdae statue.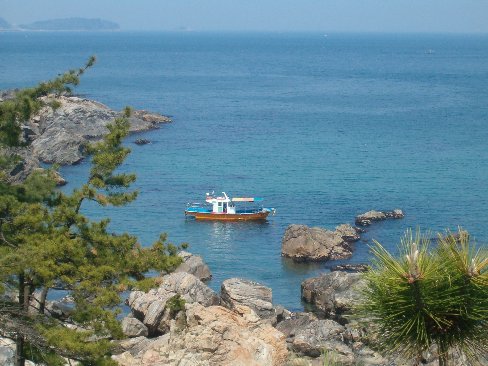 This is literally my parting shot–the last photo taken on this trip. 
So, the drive home was most uneventful.  I took a different route, and got a little lost when I first left.  I was compensated for the lost time by a backroad drive through tiny farming villages that were really quite charming and peaceful.  On the way back I stopped at one of the roadside service areas and had an W5000 all-you-can-eat Korean buffet.  Unfortunately, all I could manage was about W1000 worth.  Imagine a greasy spoon truck stop and you will have the USA equivalent.
Everything went well until I got about 30 kms from Seoul.  I had missed the expressway so I was on surface streets in Friday rush hour traffic.  Those last 30 clicks took me over 2 hours to complete.  I was a little stressed and exhausted when I finally made it home, but it was a great trip.  I am resolved to get my lazy ass out of town on a monthly basis.  Turns out there is life outside of Itaewon after all.
Go figure.