At least that's what this sign told me:
Best compliment yet on my new look– Bartender at Srooge Pub said " I used to call you ajussi (uncle) but now I call you oppa (brother)." Should have shaved years ago!
Speaking of being not quite as invisible as I once was, while waiting to cross the street in Itaewon I caught this group of young ladies staring at me.
With some of that free time I mentioned in my previous post I peruse the reader submissions at a Thai-centric website called Stickman Bangkok.  As is common with this type internet venue, the quality of writing runs the gamut of truly awful to "this guy should be making money as a wordsmith".
I've never been to Thailand (yet) but I do enjoy visiting vicariously through the submissions by those who have experienced the Thai life up close and personal.  And my favorite writer who frequently posts at Stickman is Steve Rosse.
This story is a good example of his work.  It's a quick read and entertaining.  Go now, I'll wait here for you.
Good stuff, huh?  I'm not all that interested in girly bars and whoring around these days, and neither is Steve.  Although quite honestly, I'm never quite sure where truth and fiction reside within his work.  That doesn't lessen the genuine pleasure I get from his stories though.
Anyway, a few months back I read this story by Steve called "Cellies" and it was like being hit upside the head with a brick.  He had artfully expressed in words something I had been doing frequently in the last few months of my ill-fated marriage–escaping to a better life in a world that existed only in my mind.
I was so moved I felt compelled to send him an email and thank him for his effort.  I was a little surprised when Steve wrote me back.  In his email he mentioned that if I enjoyed his writing I might consider purchasing some of his published work on Amazon.  I told him I most certainly would.  But then I went of my six month bender life intruded and I never got around to it.  I did use one of his quotes in a blog post though.
Well fast forward to a week or so ago when I was catching up with StickmanBangkok where I read a submission by Steve called "The List".  And a couple of days later some anonymous asshole wrote a post that started off by attacking Steve and then went off on a rant delving deep into the sewers of misogyny.  I was pissed and was working on an appropriate response in my head.  I needn't have bothered, because before I could put words on paper (or pixels in Word if you will) Steve came back with perhaps one of the top ten take downs in internet history.
I sent Steve a congratulatory email and told him his evisceration of "Anus Moony" had finally provided the motivation for me to keep my promise to buy some books.  I guess for a writer that's about the best thank you of all, right?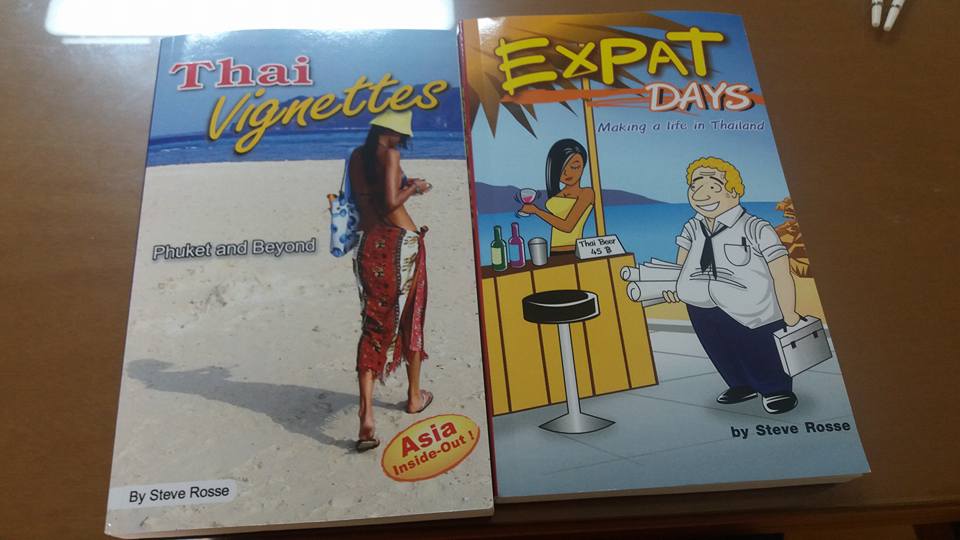 I'm quite certain these will provide excellent beach side reading entertainment next week.
And what beach might that be you ask?  Why, lovely Samal island in the Philippines. Never been to that particular part of the PI, but it looks nice in the pictures.
And that's about where things stand at this particular moment in time.
Except for this:
Liberal logic.  Now there's an oxymoron for you.