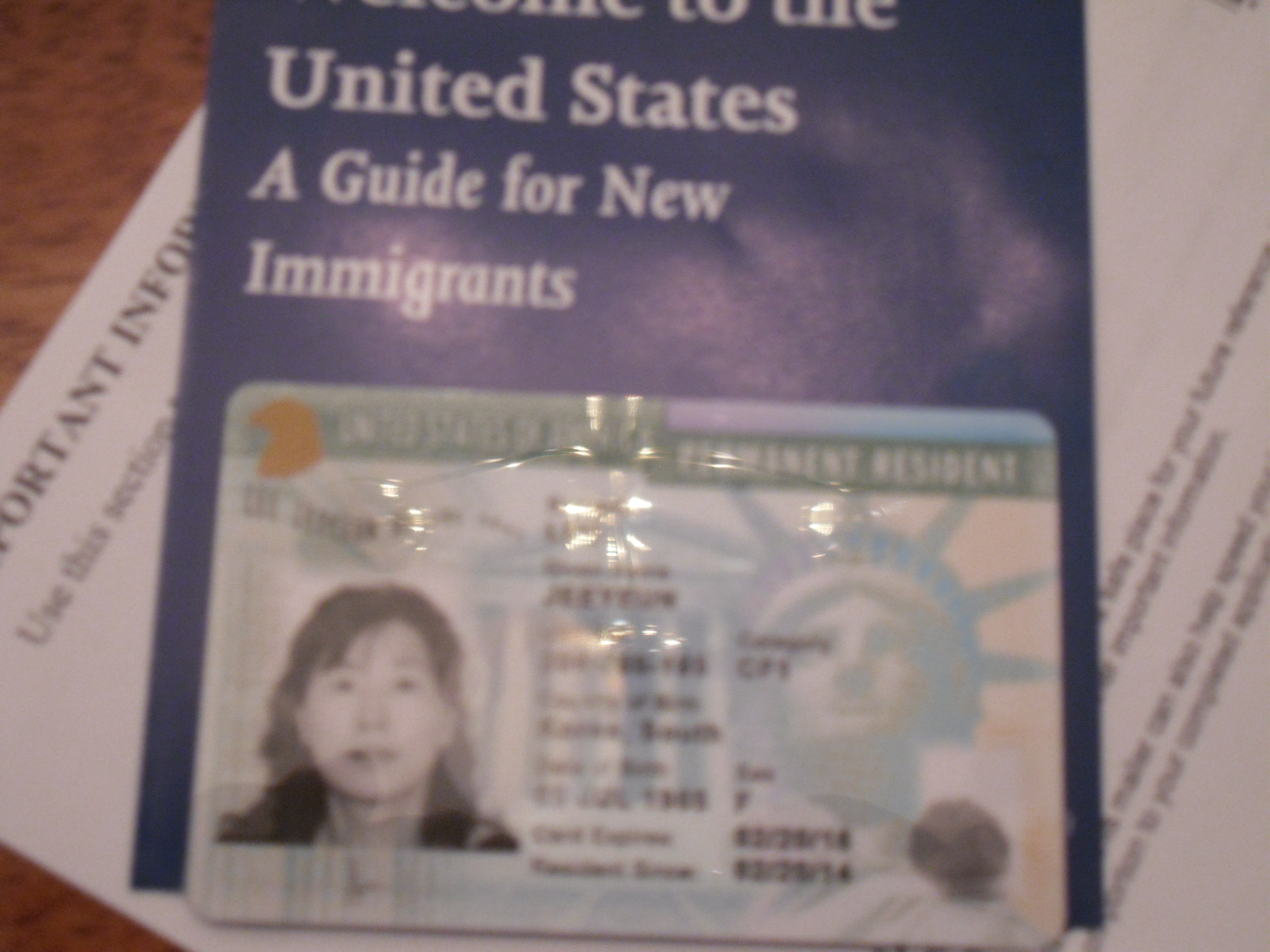 Today's mail brought the long awaited green card (permanent residence) status for Jee Yeun.  And all it took was more than two years and two thousand dollars.  Along with every last ounce of my patience.
Anyway, we persevered.  And now that the U.S. government has granted residency status we can get the hell out of here for our long anticipated return to the Land of the Morning Calm.  Before that departure I need to secure a social security number for Jee Yeun so as to complete my tax filing obligation like the good citizen that I am.  We'll venture back downtown to the Federal building for that purpose tomorrow morning.
And then I need to purchase two tickets to paradise (or a reasonable facsimile thereof).  I have a dart tournament to compete in from March 7-9 in Augusta, GA.  So, I'm going to shoot for a departure date of March 13.  I'm going about it a little differently this time around.  Normally, I book from Columbia to Atlanta via Delta Airlines which code shares the Atlanta to Seoul Korean Air flight.  But that has posed some problems in the past.  Flying from Columbia adds about $300 to each ticket.  Since I'm entering Korea on a tourist visa* I have to book a return trip within 90 days.  Given that we'll be staying in Korea for six months or so** I have to change my return flight and Delta gigs me another $250 for that privilege.  The final straw was that Delta charges a baggage fee for more than one bag on international flights.  Which is outrageous.
Instead of dealing with the greedy bastards at Delta, I'm going to pay someone to drive us to Atlanta and I'll book directly with Korean Air.  They still allow two bags per passenger at no charge, are more flexible with with rescheduling flights, and they actually seem to care about customer service.  Plus their flight attendants are prettier.
Anyway, we are excited!
* I intend to change my visa status to spouse while I'm in Korea.  Hopefully the Korean government will prove easier to deal with in that regard than my own has.
** I foresee future difficulties with Uncle Sam regarding my 6 months here and there plan.  USCIS is apparently much stricter with legal immigrants than they are with those who ignore our nation's immigration laws.  When a person is granted permanent residency they are expected to you know, reside in the USA permanently.  I get that.  So you'd think if we spent slightly less than 6 months in Korea, and slightly more than that here we'd be okay.  My research on this indicates otherwise.  I saw some horror stories that multiple annual trips of a few months duration can put the grant of permanent residency in jeopardy.  Apparently, there is no type of visa that works ideally for our situation.  One solution would be for Jee Yeun to become a naturalized citizen.  Except she prefers to retain Korean citizenship.  I'll probably do what I should have done from the very beginning–consult an immigration lawyer.
UPDATE: I'm such a whore.  Went online to purchase tickets.  KAL's ATL-ICN route was $1750.  And I'd pay someone $200 to drive me to Atlanta plus 4 hours in the car.  Whereas, Delta had Charlotte/Detroit/Incheon for $1135.  The layover in DET is just over an hour, so the total flight time is almost the same as from ATL.  I'm one hour from CLT so all things considered, I went with Delta.  We'll see how it works out…