Weather is starting to warm up, but it is still not uncomfortably hot. I keep my doors and windows open and thus far have not needed to use the A/C. The mosquitos are out however. I've killed a couple in the house, and woke up this morning with a bite on the belly. Got to keep the screens closed on the doors to the balcony….
Anyway, I've mentioned how I spend some time up on the roof. There's a nice view up there and usually a good breeze. I take my chair, boombox, and cooler of beer up there and most days have the place all to myself. Here's some photos I took a couple of weeks ago….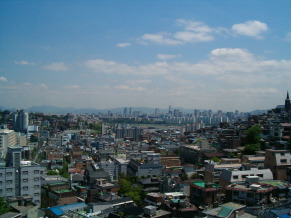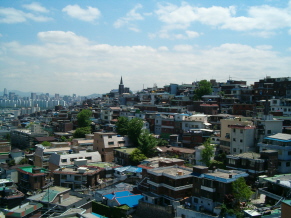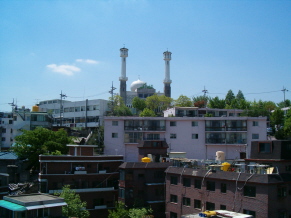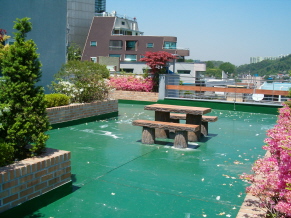 In other news, it appears that one of the bars I enjoyed visiting for a little pool and conversation has closed. No idea what happened to Lucky Strike, I was there Wednesday and everything was cool. But it has been closed all weekend, and bars do not close on weekends. There are lots of bars in Itaewon, but finding a comfortable place without Juicy girls, loud music, or big crowds is not so easy. I also enjoyed the company of Eun Ja, the barkeep. When it was quiet she would consent to kicking my ass at pool. I would reciprocate by beating her at chess.
And in case you are wondering, the answer is no. She just turned 30. And she has a boyfriend. In fact, she told me he is the jealous type and he asked her about me. Her response: "you mean that old guy?" Ouch.
Anyway, I will miss Lucky Strike.